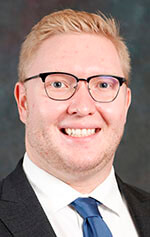 Optometrist in Columbus & Westerville
Dr. Zachary Coates grew up in Shadyside, Ohio, and graduated from Ohio State University with a Bachelor's Degree in Chemical Engineering with a focus on biomolecular engineering. Dr. Coates found his passion for eye care after attending an open house at The Ohio State University School of Optometry. He attended The Ohio State University School of Optometry earning his OD as well as a Masters Degree in Vision Science. During optometry school, Dr. Coates served as Treasurer for the Class of 2019, served on the College of Optometry's Student Council, and served on the College's trips to Appalachia with Remote Access Medicine to provide free eye care to underserved populations. Dr. Coates completed a research project for his M.S. on the effects of vision correction through glasses and contact lenses on the self-perception of teenagers from underserved populations in Columbus.
Upon completion of optometry school, Dr. Coates began one-year management of ocular disease residency at the Chillicothe and Columbus Veterans Administration Medical Centers. Dr. Coates is a current member of the Ohio Optometric Association and is a candidate for a fellowship in the American Academy of Optometry.