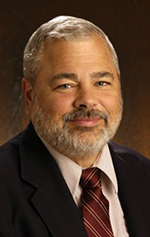 NOTE: Dr. Harnish retired from practice in June of 2022.
Wesley J. Harnish, M.D. graduated Baldwin Wallace College 1973 earning his Bachelor of Science Degree. He worked as a Research Chemist with Ashland Chemical 1973 – 1975 and with Smith-Corona Marchant as a Research Chemist and German Translator 1975-1980.
He attended The Ohio State University 1980-1981 as a Graduate Student, going on to The Ohio State University College of Medicine earning his Medical degree in 1984.
His Internship was completed at Riverside Methodist Hospital 1984-1985 and he completed his Residency in Ophthalmology at The Ohio State University during 1985-1989.
He began his private practice at this location in July, 1989, while acting as Clinical Associate Professor at The Ohio State University until 1993. He also did fellowship training in Neuro ophthalmology during 1989 and 1990.
Dr. Harnish received the American Board of Ophthalmology Certification in 1991. Dr. Harnish has been the Chief of Ophthalmology at Mt. Carmel, St. Ann's since 2000.
Personal Profile
Dr. Harnish was raised in Port Clinton on Lake Erie and has sailed since he was very young. He now sails regularly at Hoover Reservoir and is a member of the Hoover Yacht Club. He races in the Thistle and Laser Classes campaigning his sailboats at many locations throughout the country. He plays Chamber Music with friends, playing violin and viola at local churches and professional meetings. He has a special interest in written Chinese and speaks German fluently. He enjoys creative writing and is currently working on his first novel.
Dr. Harnish married in 1981. His wife Anne is the Assistant Director of the Ohio Department of Health. They enjoy playing tennis with their two sons. He and his family spend a week at Chautauqua every summer attending various lectures and concerts, playing tennis, sailing on the lake, and taking lessons in the various arts. He is also a member of Central Ohio Soaring Association in Marion, Ohio, and enjoys cross-country soaring. Dr. Harnish has done woodworking, boat building, and glass blowing and was a long distance runner.
Eye Surgical & Medical Care
Dr. Harnish founded ESMC in 1989, a practice focused on providing the most advanced treatments to both correct our patient's vision and protect it over time.