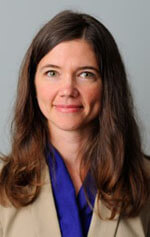 Optometrist Westerville & Columbus
Dr. Katie Wulff was born and raised in Iowa and obtained her Bachelor's Degree in Microbiology at the University of Iowa. It was there that she began working as a student employee in the Department of Ophthalmology Contact Lens Clinic and realized that optometry was her future career. She then attended The Ohio State University College of Optometry and completed her doctoral degree. During her time in school, she served as the vice president of her class and vice president of the Students Volunteering Optometric Services to Humanity (SVOSH). As a student member of SVOSH, she traveled to the Dominican Republic giving ocular examinations and dispensing donated glasses to those in need.
After graduation, Dr. Wulff completed a one-year ocular disease residency at the Chillicothe and Columbus Veterans Administration Medical Clinics where she was trained in the management and co-management of a wide range of ocular disease conditions. After completion of her residency, she continued to work for the Veterans Administration giving eye examinations to the Veterans in central and southern Ohio, as well as providing eye care for patients in the private sector in the Columbus area.
Dr. Wulff is an associate clinical faculty member of The Ohio State University, College of Optometry. She is also a current member and Fellow of the American Academy of Optometry, the Beta Sigma Kappa Optometric Honorary Society, and the Scleral Lens Society. Other society memberships include the American Optometric Association and the Ohio Optometric Association for which she has previously served as zone trustee. Dr. Wulff and her husband have two children. She enjoys spending time outdoors and serving in her local church.
Areas of interest:
Comprehensive optometry
Glaucoma – medical treatment
Diabetic eye exams
Specialty contact lenses including scleral contact lenses
Myopia control
Dry eye evaluation and treatments