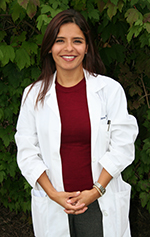 Optometrist in Westerville & Columbus
Dr. Hammond received her undergraduate degree from the University of Notre Dame in 1998. She earned her doctorate in optometry from the Ohio State University, College of Optometry in 2009, and graduated with magna cum laude honors. She was admitted into Beta Sigma Kappa Honor Society throughout the four years of her optometric education.
She is excited to have joined Eye Surgical and Medical Care in December 2009. Dr. Hammond provides vision services for children and adults. These services range from comprehensive eye exams, glasses prescriptions, contact lens fittings, specialty contact lenses for "hard to fit" corneas, multifocal contact lenses, ortho-keratology, complications with contact lenses, low vision, management of dry eye, diabetes, glaucoma, and other ocular diseases. She is also trained in the co-management of laser vision correction and cataract surgery.
Dr. Hammond is committed to providing high-quality medical care, as well as recommending appropriate ophthalmic products to enhance her patients' visual function. This includes task-specific glasses, contact lenses, and low vision devices.
Dr. Hammond was born in Colombia and speaks fluent Spanish. She supports advanced optometric education through professional memberships in the American Optometric Association, Ohio Optometric Association, and Central Ohio Optometric Association. She has provided free eye examinations in Ecuador with the Volunteers for Optometric Services to Humanity.
Dr. Hammond and her husband have four young children. She enjoys chasing them around!