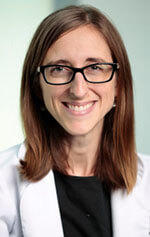 Optometrist in Columbus & Westerville
NOTE: Dr. Geldis retired from practice in January of 2023.
Dr. Julia Geldis grew up in Newcomerstown, Ohio, and decided to pursue optometry after working for her hometown optometrist during high school. She attended Ohio University for her undergraduate degree in biological sciences and then attended The Ohio State University College of Optometry. During optometry school, Dr. Geldis participated in mission trips to El Salvador and the Dominican Republic, and she also served as president of Students Volunteering Optometric Services to Humanity (SVOSH).
Dr. Geldis completed a two year Cornea and Contact Lens Fellowship at Ohio State, and was employed by the College of Optometry as a clinical faculty member, serving as Chief of Optometry Services at the Wilce Student Health Center. Dr. Geldis is a Fellow of the American Academy of Optometry and is also a member of the American Optometric Association and Ohio Optometric Association.